File : 1274676933.jpg-(340 KB, 520x723,

Pitfiend-Dad-WHOS-THIS-EDWARD-FAGGOT-YOU(...).jpg

)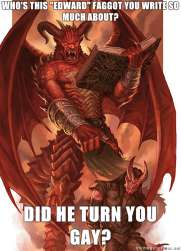 Anonymous

05/24/10(Mon)00:55 No.10017625
Pitfiend dad thread go
>>
05/24/10(Mon)01:06 No.10017824
File1274677603.jpg-(332 KB, 520x723,

Pitfiend-Dad-WAIT-WAIT-WAIT-YO(...).jpg

)


Mostly converting the better quotes from the archive into meme generator images.
>>
05/24/10(Mon)01:08 No.10017845

>>10017824
"It's called an umber hulk, dad, and it's a deep and meaningful story about splattering jizz all over its giant mandibles!"
>>
05/24/10(Mon)01:10 No.10017892

This would have had more potential if he weren't reading from a book and just pointing at that lesser fag
>>
05/24/10(Mon)01:12 No.10017911

>>10017824
Why? They work better as captions. In that one the text is obscuring the picture.

You're also not picking very funny quotes.
>>
05/24/10(Mon)03:14 No.10019699
File1274685241.jpg-(216 KB, 480x549,

lolingsohard.jpg

)


oh god, i laughed uncontrollably after reading these.

please, continue
>>
05/24/10(Mon)03:23 No.10019848
File1274685819.gif-(78 KB, 400x459,

1273820988938.gif

)


This thread is cash. Can someone link the original pic without the text
>>
05/24/10(Mon)03:34 No.10019976

You should really check you spelling before you post these.
>>
05/24/10(Mon)03:36 No.10020000

OP here, a person or two are posting along with me, so if there's faggotry going on it's not 100% me.
>>
05/24/10(Mon)03:45 No.10020112

I'm okay with this new meme.

Proceed.
>>
05/24/10(Mon)03:46 No.10020120

>implying these are ever good