Anonymous
Season finale
05/10/14(Sat)09:10:49
17679224
their majesties.png
(450.67 KB, 906x715)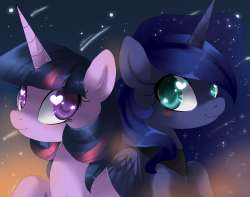 S4 • E25&26
"Twilight's Kingdom" by
Meghan McCarthy
Synopses:
Part 1 — When a villain escapes Tartarus, Princess Celestia chooses Discord to help track him down instead of Princess Twilight. Meanwhile, prompted to prove that she has an important role to play, Twilight turns her focus to opening the Tree of Harmony chest.
Part 2 — In order to protect their magic, as well as the fate of Equestria, Princess Celestia, Princess Luna and Princess Cadance transfer all of their magical power to Twilight.
Promos:
Hub Network #1
Hub Network #2
Pony Confidential
USA Today
TV Guide
Hollywood Reporter
Entertainment Weekly
Live streams (recommended):
Poniflix
*†
BronyState
Brony TV
Equestria TV
* Available in HD.
† At 11AM ET, Poniflix will provide a ranking of all the S4 episodes, from best to worst, as voted by viewers.
For additional streams,
see EqD's big list
.
MLP airs at 10AM ET today.
Convert this to your time zone
.
No spoilers before the ep, please!
We have finally reached this moment, folks. Less than an hour to go. As always, the links will open in a new window/tab. This sticky will remain extra long to allow for as much discussion as possible of the finale episodes and the season in general.
Thanks for joining these threads the past six months; bonus points if you came for all of them. Points also awarded to those who woke themselves early or stayed up late to participate, where necessary. I look forward to doing this again with y'all next season—in 2015.
Remember: The ride never ends.