Anonymous
Help with Building a Game Case
10/03/14(Fri)15:56:47
706177
IMG_1728.jpg
(1153.09 KB, 2592x1944)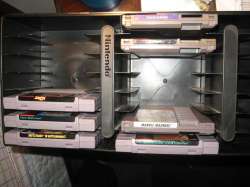 Hey all. /vr/ regular here. Just to give you a little background about myself, I'm a total newbie to /diy/ but I did spend a couple years building theatre sets in college so I'm no stranger to power tools.

Anyway, pictured is the single greatest video game case ever released. The way its designed it can hold both NES and Super Nintendo cartridges, the only problem is it only holds 21 of them. Buying new ones would set me back $35 a pop on ebay, and I would need at least 4 of them anyway, so it seems the logical course is to build my own. To fit my needs (and my collection) I would need to build one with maybe 90 slots.
It seems logical to me to build the frame out of wood, but what about its inner workings? I want to replicate the case pictured as much as possible, so I'm thinking I should be putting plastic inside. Would that be the way to go? And if so where could I buy some quality sheet plastic that's only about 1mm thick? Also any other tips from you guys with cabinetry experience would be appreciated as I've never build anything this delicately detailed before.