File :1228115649.jpg-(8 KB, 155x200,

haley2.jpg

)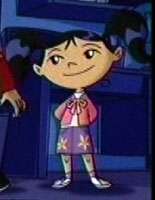 Haley's original dragon form

Anonymous

12/01/08(Mon)02:14 No.6845169
American Dragon can be sumed up with "Yo dawg! Wuts up G?" "Magical Creatures must not be known!" and "OMG! ROSE!" ...all in all, a passing fad.

Call me crazy, but what I wanted to see was Haley's dragon form from the original non budgeted takeover look. We were only given hints from a couple episodes and by the time it was revealed she was a pinkish imp, a design frankly I disliked. What she originally would have looked like as a full dragon has bothered me ever since the redesign. Anyone else feel like this, fixated on a minute detail about an average show?
>>
12/01/08(Mon)02:15 No.6845191

So she's not really a dragon? All I've ever seen is porn of her as a dragon, so that's all I have to go on.
>>
12/01/08(Mon)02:16 No.6845197

The hints pointed out to the same thing as her brother, only pink.

Probably not that different from the redising form except for the face.
>>

!!48S7puwhofw

12/01/08(Mon)02:17 No.6845212

>>6845169
hated the redesign since all the girls lost their curves
>>
12/01/08(Mon)02:17 No.6845223

>>6845191
No no no, pinkish imp is just a description of her redesign, she is still a dragon.

For example, in the original she was purple.
>>
12/01/08(Mon)02:42 No.6845573

Here's what I remember from memory:

One episode, she showed her claws, purple of course.
Another episode, the tooth fairy one, Her neck elongates looking like a snake, same face structure as her human form, purple. Also had purple wings that sprouted for a few seconds.

Then there was an episode I didn't even know about until the show was over, the Halloween ep showed her at one point trick and treating and HER ENTIRE HEAD WAS A DRAGON, LOOKING LIKE JAKE'S DRAGON HEAD ONLY PURPLE. That blew my mind when I read about it then eventually saw it. All this before the redesign. If we count the neck stretching as canon, then she would of been taller than her redesigned dragon form.
>>
12/01/08(Mon)05:44 No.6847212

pics would be nice.
>>
12/01/08(Mon)07:06 No.6847665

Her original dragon form was freaking adorable...
>>
12/01/08(Mon)07:30 No.6847763
File :1228134605.jpg-(163 KB, 720x540,

image..jpg

)


THANK YOU

I'm glad I kept this thread open.
>>
12/01/08(Mon)07:32 No.6847777
File :1228134757.jpg-(178 KB, 720x540,

image-3..jpg

)


HOLY COW

Looking at these stills...her hands were HUGE.
>>
12/01/08(Mon)07:34 No.6847783

I like this show. I would love to become a dragon :3
>>
12/01/08(Mon)07:44 No.6847831

Didn't they change the art style?
It went form semi-realistic cartoon people to stylized noodle people.
>>
12/01/08(Mon)07:56 No.6847890

This show was shit. Coul'dve made a better one while jacking off.
>>
12/01/08(Mon)07:59 No.6847903

>>6847890
Aw, you jus' hatin', dawg. Why you gotta be sippin' on the haterade in a perfectly fine Jake Long thread?
>>
12/01/08(Mon)08:00 No.6847911
File :1228136423.jpg-(144 KB, 720x540,

image-15..jpg

)


Wings gone. Unfortunately, the site don't seem to have screencaps of the halloween episode where they show her dragon head. Perhaps need to find another source.
>>
12/01/08(Mon)08:02 No.6847922

I liked the redesign.
>>

!!KRmqCe6sCk2

12/01/08(Mon)08:05 No.6847939

I like the redesign too.
>>
12/01/08(Mon)08:12 No.6847972
File :1228137165.jpg-(80 KB, 640x480,

image-16..jpg

)


Suddenly a black shadow approaches! Who could it be?
>>
12/01/08(Mon)08:18 No.6848007
File :1228137519.jpg-(123 KB, 640x480,

image-21..jpg

)


YOU MEAN THAT ENTIRE TIME OF WANTING TO SEE YOUR COMPLETE DRAGON FORM LED TO THIS?
>>
12/01/08(Mon)08:23 No.6848030
File :1228137812.jpg-(100 KB, 640x480,

image-22..jpg

)


NOW I CAN FIGHT CRIME AND BE A NOODLE PERSON JUST LIKE YOU!
>>
12/01/08(Mon)08:25 No.6848039
File :1228137903.jpg-(118 KB, 640x480,

image-23..jpg

)


WE CAN AALLLLL BE NOODLE PEOPLE NOW. JOIN US JAKE!
>>
12/01/08(Mon)08:28 No.6848061
File :1228138131.jpg-(102 KB, 640x480,

image-26..jpg

)


OH MAAAAANN.

DEFINITELY SHOULDN'T HAVE SOLD THE SHOW TO NOODLE SATAN. GRAMPS IS GOING TO KILL MEEE....
>>
12/01/08(Mon)08:29 No.6848067

>>6847911
I'll check the Halloween episode and post pictures later.
>>

!rxaU.6oOlI

12/01/08(Mon)08:58 No.6848219

Say what you will, but the show definitely improved with the redesign. Jake's slang PLAUGED the show and the removal of that immediately made the show better.
>>

!QY5.KZvHBI

12/01/08(Mon)12:24 No.6849883

I liked the redesign better. I really couldn't stand the original artstyle.
>>
12/01/08(Mon)12:25 No.6849892

>>6848219
Yeah. Don't care for the redesign, but Jake became much more tolerable.
>>

!!48S7puwhofw

12/01/08(Mon)12:31 No.6849955

I liked his first dragon mode since it showed western blended with a little eastern. Revision should have been a mixture of the two styles and not a total reversal to a completely eastern style dragon.
>>
12/01/08(Mon)12:33 No.6849980

The obvious answer is that the pink dragon was always Haley.

The purple dragon was Spyro in disguise.
>>
12/01/08(Mon)12:37 No.6850025

I'm glad I never saw this.

Mixing dragons with wigger bullshit?

I would have had an aneurysm
>>
12/01/08(Mon)15:49 No.6852070

If this show wasn't filled with "Ghetto Speak" it might have been more enjoyable.
>>
12/01/08(Mon)17:14 No.6853028

>>6851871
>>6851888
>>6851910
>>6851929
>>6851943
YES. ALL OF THIS. I KNEW I WASN'T CRAZY.

So, do we have enough for a drawfag to actually show what she could of looked like? The only problem I see is the body, tail, and feet. For that we have to guess. Anyone willing?
>>
12/01/08(Mon)19:22 No.6854518

The creators were planning it. Infact they must of had physical concept art to follow by to do these hints, so the art could be out there.

The fact is that Haley's dragon form was much bigger than her redesigned form, most likely to scale when Jake transformed to their original heights. The hands are a total giveaway.
>>
12/01/08(Mon)21:01 No.6855635

Didn't this show have Bender as a talking dog?
>>
12/01/08(Mon)21:39 No.6856083

>>6855635
Yes, which was eerile done again with Juniper lee. Same breed even.