Anonymous
04/05/14(Sat)14:55
60537804
Po-and-tigress-kung-fu-panda-couples-27240339-869-555.png
(269.46 KB, 869x555)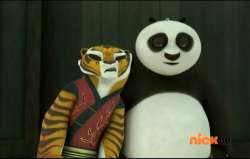 >In October 2013, the film's production team spent a week in Shanghai with their production partners at Oriental DreamWorks. While there, they were treated to some authentic Chinese "experiences" by the ODW team to help them incorporate ideas for the film; these included "a tea ceremony, incense ceremony, high kicking Kung Fu action, as well as wedding ceremonies from the Tang, Song, and Qing dynasties."
>The other four members of the Furious Five will never get screen time so long as these two are alive.
Also, this makes the next movie pretty predictable in terms of character development. Po/Tigress will probably happen to some degree.
DW/KFP thread anyone?