Anonymous
10/21/13(Mon)12:19
55268762
sth257.600.jpg
(497.03 KB, 1200x923)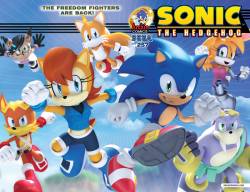 So official solits of Archie comics have gone up
http://www.firstcomicsnews.com/?p=90438

Look at the good quality version of Sonic #257

Bunnie has a ring on her finger! I guess we can finally settle that dumb 'are they still married in this new universe' debate.

Also the Freedom Fighters look damn good in 3D.