MishaLover !!l14ghIzAV4y
Burka Avenger
07/27/13(Sat)19:07
52315074
sample-1[1].jpg
(1000.20 KB, 1361x771)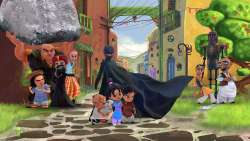 http://www.burkaavenger.com/tvseries

Click on the "monologue" video, it actually manages to look kind of cool. Anyone know how to rip it? I want to toss it up on youtube.

You know, there aren't really too many Muslims in animation, so I think this is actually kind of a near idea, even if it is low budget.

I'm a little disappointed that she just throws the books, instead of having paper powers like R.O.D.

Anyone know when it is actually going to air?